Native North American Elder
The berries are with us! The flowers shine upon us!
And the leaves shall come before them. Feel the bark...
Many people want to feel the bark of elder cuttings in their hands each spring, and some are seriously considering commercial scale production beyond family and friends. This page is for you. (Yes, the above few lines of verse are mine - Chris Patton, President.)
More than sustainable, elderberry enhances the environment when planted as part of  a horticultural installation designed to accomplish a set of soil, water, pollinator and wildlife management objectives.  - Chris Patton, President, MEC
Our 2025 goal is 2,250 acres of cultivated native elderberry - that's 10,000,000+ lb. harvested and sold! MEC has about 100 growers in its network from coast-to-coast. 

Project 22-50 outlines our growth program - click to go there.
Commercial scale cultivation of native elderberry presents a sustainable ray of environmental and social hope. As a catalyst crop for improved environmental practice and economic profits to farmers and rural communities. Perennial native elderberry supports over 60 native pollinators, holds soils in place, sequesters carbon and sucks up nitrogen. The tremendous potential health benefits of both fragrant flowers and sweet-neutral berries, as well as their popularity, provide profit opportunity to rural communities through its cultivation, decentralized handling and processing. Go to our Elderberry & Environment page. 
As an organization, MEC puts its members' interests first. MEC's cooperative structure accommodates a wide range of grower farm strategies. Some are small producers who only sell directly to their local markets. Others may focus on large scale elder flower and/or berry operations and share in the cooperative wide profits and losses hedging their financial risks over our collective economic success.
To learn about the philosophy and reasoning behind our cooperative, please watch the hour & 6 minute narrated presentation linked below:
MEC: A Coop Answer to Current & Historical Socio-Economic and Environmental Challenges, Christopher J. Patton MA, MBA 


The Development of Elderberry Cultivation Best Practices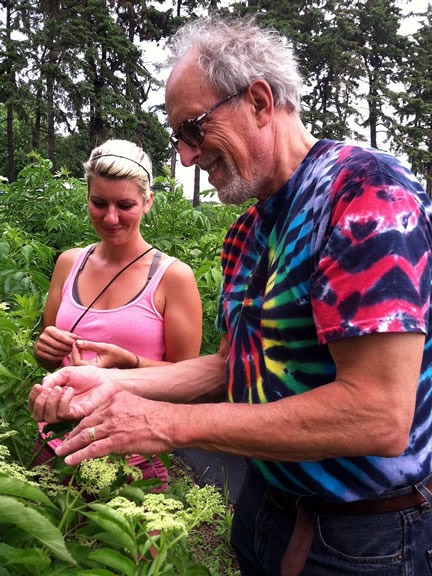 We have many links to various relevant presentations, including many from past Comprehensive Elderberry Workshops on the Reports & Grants page under About. 
MEC organizes or co-hosts events to help potential growers evaluate elderberry as a hobby or business crop. In many cases the public is welcome to participate and/or volunteer time to learn more about elderberry. We have a great deal to learn, and the work has its pleasant ah-ha moments, too. Check out our events page for what's scheduled and when.
Terry Durham began efforts to cultivate elderberry as a commercial crop from before 2000. He has worked closely with various departments of the University of Missouri, which has dedicated research dollars and staff time for many years. Most of what is currently documented about growing elderberry under commercially cultivated conditions is a result of their long-term partnership, which in the June 2013 resulted in  The First International Symposium on Elderberry. Terry annually sponsors an annual Comprehensive Elderberry Workshop jointly with the University of MO Extension. He also travels to other places to share his experience on growing and processing elderberry fruits. Find his schedule at the River Hills Harvest website.
Terry Durham's Agroforestry farm tour for Savannah Institute:
https://www.riverhillsharvest.com/growers?utm_campaign=9bbdbb4c-b63b-481d-80ff-1e7fcf326aa0&utm_source=so Take this 5 minute tour for great insight about growing elderberry.
Terry Durham's Hour Nutshell (audio) Presentation for Savannah Institute: 
Growing Elderberry for Fund & Profit (2019) https://www.youtube.com/watch?list=PLbQw0w1naSdud5XyImbSyCCoBcP3zpowS&v=tA_iFQUUBcI
Short Video of MEC's 2014 Harvest & Processing Workshop Growing Currants, Gooseberries & Elderberries in Wisconsin

Transitioning to Certified Organic Production 
Click on the above link to download a USDA/SARE planner pdf.

Perennial Fruit: 
new, unusual and unique crops for northern climates   Lead author:  Thaddeus McCamant, Specialty Crops Instructor, Central Lakes College, Staples, MN. This publication was a project of the Minnesota Institute for Sustainable Agriculture at the University of Minnesota.  Click here to go directly to the section on elderberries.

Growing Elderberries: A Production Manual and Enterprise Viability Guide for Vermont and the Northeast (University of Vermont Center for Sustainable Agriculture)

With its white flowers in the late spring, dark berries in summer, tolerance for a variety of conditions, and anti-oxidant and anti-viral properties, elderberry is enjoying a surge of interest. Because elderberry is relatively easy to cultivate, and can tolerate short-term flooding and the variable precipitation predicted with climate change, it may represent a good crop for farmers and landowners for diversifying income. However, as a perennial crop that takes at least three years to get established, interested growers need good information to evaluate the prospective return on investment for their enterprise. 
Home Guide Articles on Elderberry Cultivation 
http://homeguides.sfgate.com/size-mature-elderberry-plant-49943.html
This set of articles found on the main page and in the margins contain good amounts of general information are directed more towards techniques on growing elderberry around one's home. However, the main picture on the linked page is of a red elderberry, that is NOT good for human consumption. Most of the guidance is reliable - such as soil preference, site location, and pruning elderberry for a home garden. Other comments are questionable: cuttings are quite easy to grow, contrary to what was stated in one article, for example. 
Growing Elderberry for Food & Meds Published on May 15, 2013
Amazingly adaptable and hardy, elder grows almost anywhere. Canadian herbalist Conrad Richter discusses the varieties of elder, and how to grow them and which can be used for drinks, foods and medicines. The presentation was part of Richters' HerbDay celebration in honor of elder, the 2013 Herb of the Year. [Good video for home hobbyists or for some exploring the commercial potential of elderberry. -cjp]
Elderberry: Botany, Horticulture & Potential as a Food and Medicinal Crop, 
by Denis Charlebois et al
Elderberry Possibilities, Patrick Byers at Minnesota Fruit & Vegetable Growers Conference,  1/16/2014, St. Cloud, MN.
Overview of Elderberry Nutrition (growing), Patrick Byers at Missouri Elderberry Comprehensive Workshop, June 2014.
University of Missouri Presentation Video Presented 2012 / Published on Feb 20, 2013
The Center for Agroforestry at the University of Missouri has identified elderberry as an important component in a variety of agroforestry practices. In this video Michael Gold, Pat Byers, Andrew Thomas, Ina Cernusca, and Larry Godsey present, "Elderberry: A Rapidly Growing Specialty Crop in the U.S. Midwest," at the 2012 Farmers Forum. [Reviews the start of commercial elderberry production in the US.  -cjp]
From River Hills Harvest / Terry Durham - March 2015: