Native North American Elder
Demand for Elderberry Spikes During the Pandemic 
Demand for US grown native elder berries and flowers - both the black (Sambucus canadensis) east of the Rockies and the blue (Sambucus cerulea) west of them, far exceeds current supply. Over 95% of the elder ingredients found in American made products are sourced from outside our continent. The opportunity is real, as are the technical challenges, but the technical challenges are being addressed, will be solved, and the market will not evaporate until then.
Reflective of broad consumer interest in boosting immunity and also rising interest in functional food, beverage and supplement products derived from inherently beneficial sources, demand for products containing elderberry has risen sharply during the pandemic…

Already fairly common in cold remedy products, elderberry's migration into a wider range of consumable categories and preventative health routines underpins its recent performance. The popularity of botanical and plant-based products like elderberry stems from folk medicine traditions and consumer curiosity about plant-based ingredients themselves.

Within wellness culture, consumers have intrinsic beliefs in the connection between plants and health, a connection as old as humanity itself, since (until recently) most of our medicines came directly from plants. These beliefs extend back into ancient history, including evidence that Neanderthals used medicinal plants to alleviate pain, ease fevers and heal wounds.

Elderberry's rise has been propelled by a current of demand formed at the convergence of several trends pre-dating COVID-19 — namely, interest in immunity benefits, food as medicine, inherently functional beverages and formats beyond pills.
To learn about the philosophy and reasoning behind our cooperative, please watch the hour & 6 minute narrated presentation linked below:
MEC: A Coop Answer to Current & Historical Socio-Economic and Environmental Challenges, 
Christopher J. Patton MA, MBA 

The Development of Elderberry Cultivation Best Practices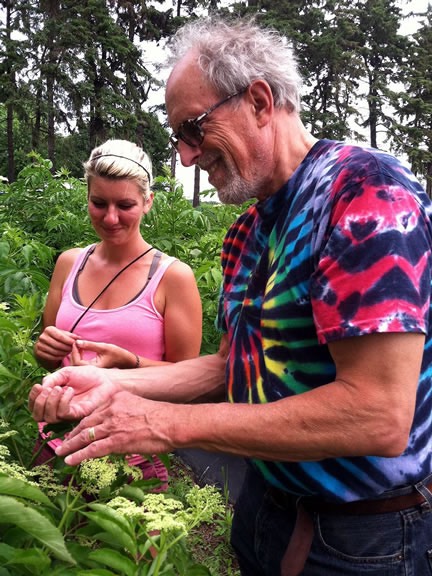 We have many links to relevant presentation notes and videos, including many from past Comprehensive Elderberry Workshops, on the Presentation page. 
MEC organizes or co-hosts events to help potential growers evaluate elderberry as a hobby or business crop. In many cases the public is welcome to participate and/or volunteer time to learn more about elderberry. We have a great deal to learn, and the work has its pleasant ah-ha moments, too. Check out our events page for what's scheduled and when.
Terry Durham began efforts to cultivate elderberry as a commercial crop from before 2000. He has worked closely with various departments of the University of Missouri, which has dedicated research dollars and staff time for many years. Most of what is currently documented about growing elderberry under commercially cultivated conditions is a result of their long-term partnership, which in the June 2013 resulted in  The First International Symposium on Elderberry. Terry annually sponsors an annual Comprehensive Elderberry Workshop jointly with the University of MO Extension. He also travels to other places to share his experience on growing and processing elderberry fruits. Find his schedule at the River Hills Harvest website.
Click here to go to the Chris' Notes collection of forms and guides to growing native Sambucus canadensis. Many of the most common questions answered.
Terry Durham's Agroforestry farm tour for Savannah Institute:
https://www.riverhillsharvest.com/growers?utm_campaign=9bbdbb4c-b63b-481d-80ff-1e7fcf326aa0&utm_source=so Take this 5 minute tour for great insight about growing elderberry.
Terry Durham's Nutshell Presentation for Savannah Institute: 
Growing Elderberry for Fund & Profit (audio 2019) https://www.youtube.com/watch?list=PLbQw0w1naSdud5XyImbSyCCoBcP3zpowS&v=tA_iFQUUBcI
Short Video of MEC's 2014 Harvest & Processing Workshop Growing Currants, Gooseberries & Elderberries in Wisconsin

Transitioning to Certified Organic Production 
Click on the above link to download a USDA/SARE planner pdf.

Guides and Papers on Growing Elder Berries & Flowers 
Below you will find grower and university summary information about growing and marketing elder berries and flowers. Many have references to other sources. They were also produced at different times with differing access to current and/or dated research. 
2020-2021 West Coast Elderberry Growers Workshop Notes 
Grower comments on both the native west coast blue (S. cerulea, alt. mexicana) and S. canadensis black native plants
February 2021 Growing for Market Article, Small orchards and agroforestry in the field pdf., by Jane Tanner. Cites three MEC board members: Terry Durham, Dan Moe and Chris Patton  

Elderberry and Elderflower (Sambucus spp.):
A Cultivation Guide for Florida (Horticultural Sciences Department, UF/IFAS Extension) An 8-page guide to growing elder berries and flowers for profit in Florida. About 90% of the material can be applied to native S. canadensis anywhere. 
Elderberry - University of Kentucky College of Agriculture Grower's Guide (4 pages)
Agriculture at the University of Minnesota on Perennial Fruit: 
 Click here to go directly to the section on elderberries.

Growing Elderberries: A Production Manual and Enterprise Viability Guide for Vermont and the Northeast (University of Vermont Center for Sustainable Agriculture) 
With its white flowers in the late spring, dark berries in summer, tolerance for a variety of conditions, and anti-oxidant and anti-viral properties, elderberry is enjoying a surge of interest. Because elderberry is relatively easy to cultivate, and can tolerate short-term flooding and the variable precipitation predicted with climate change, it may represent a good crop for farmers and landowners for diversifying income. However, as a perennial crop that takes at least three years to get established, interested growers need good information to evaluate the prospective return on investment for their enterprise. 
Home Guide Articles on Elderberry Cultivation 
http://homeguides.sfgate.com/size-mature-elderberry-plant-49943.html
This set of articles found on the main page and in the margins contain good amounts of general information are directed more towards techniques on growing elderberry around one's home. However, the main picture on the linked page is of a red elderberry, that is NOT good for human consumption. Most of the guidance is reliable - such as soil preference, site location, and pruning elderberry for a home garden. Other comments are questionable: cuttings are quite easy to grow, contrary to what was stated in one article, for example. 
Growing Elderberry for Food & Meds Published on May 15, 2013
Amazingly adaptable and hardy, elder grows almost anywhere. Canadian herbalist Conrad Richter discusses the varieties of elder, and how to grow them and which can be used for drinks, foods and medicines. The presentation was part of Richters' HerbDay celebration in honor of elder, the 2013 Herb of the Year. [Good video for home hobbyists or for some exploring the commercial potential of elderberry. -cjp]
Elderberry: Botany, Horticulture & Potential as a Food and Medicinal Crop, 
by Denis Charlebois et al
new, unusual and unique crops for northern climates   Lead author:  Thaddeus McCamant, Specialty Crops Instructor, Central Lakes College, Staples, MN. This publication was a project of the Minnesota Institute for Sustainable 
Elderberry Possibilities, Patrick Byers at Minnesota Fruit & Vegetable Growers Conference,  1/16/2014, St. Cloud, MN.
Overview of Elderberry Nutrition Patrick Byers at Missouri Elderberry Comprehensive Workshop, June 2014.
University of Missouri Presentation Video Presented 2012 / Published on Feb 20, 2013
The Center for Agroforestry at the University of Missouri has identified elderberry as an important component in a variety of agroforestry practices. In this video Michael Gold, Pat Byers, Andrew Thomas, Ina Cernusca, and Larry Godsey present, "Elderberry: A Rapidly Growing Specialty Crop in the U.S. Midwest," at the 2012 Farmers Forum. [Reviews the start of commercial elderberry production in the US.  -cjp]
From River Hills Harvest / Terry Durham - March 2015: