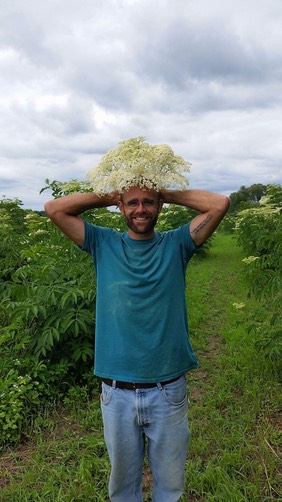 Midwest Elderberry Cooperative
We're looking for more growers!

Besides their beauty and potential as crops, elder flowers and berries provide many environmental benefits in both soil management and pollinator support. If you produce elder flowers, berries or value added products made with them for your local market or with the potential goal of commercial scale, you can join our grower coop. 
Not part of the Midwest? No problem. We have members from California to New Jersey and Virginia.  See the Elderberry America page.
MEC membership is not for those who grow only for personal / family & friends use. Most of our members only one 1 A share and sell directly to the public. MEC will partner with, sell inventory and buy harvest from A share members, who have priority to nonmembers. The C shares are for larger scale operations where the business plan is predicated on selling most of the harvest to the coop. 
How MEC Supports Growers
MEC's provides growers options to access markets otherwise unreachable profitably, possibly through shared harvest, storage and processing infrastructure. 
Provides technical assistance on all aspects of growing, harvesting and post harvest quality control of both berries and flowers.

Supports innovation, adoption of improved tools and technology.

Develops reliable markets at a scale that individual farmers would not be able to serve.

Develops and documents multiple elder berry and flower ingredient specifications, including nutrient profiles.

Arranges advance contracts for harvest with dependable buyers by aggregating and delivering elder ingredients regionally, nationally.
To learn about the philosophy and reasoning behind our cooperative, please watch the hour & 6 minute narrated presentation linked below:
MEC: A Coop Answer to Current & Historical Socio-Economic and Environmental Challenges, Christopher J. Patton MA, MBA 
For questions about membership, or to become a member, please send an email to Chris Patton at info@midwest-elderberry.coop. To become a member, simply download the Membership Application and Membership Agreement, fill them out, sign and mail as directed on the forms.

Downloads:
Cooperative By-Laws
Membership Agreement
Membership Application
Membership in Brief
Voting Member
Requires a one-time, $500/business entity purchase of Class A stock 

Membership fee is 100% at risk (MEC board determines use of funds)

Open currently to any grower producing and selling elder berries and/or flowers in USA beyond personal use.

Must execute MEC's Membership Agreement to confirm purchase of Class A share.

Required to submit farm's elderberry data to MEC for use in academic research and MEC development and service to members.

Provides:

member voting rights

priority access to available MEC-owned inventory/ingredients at board-established wholesale prices and toll fees for services

free access to MEC educational events and resource materials

the option to purchase of Class C Delivery Rights Stock

Class A shareholders do NOT share in the coop's profits and losses. Distributed profits and losses only go (annually, as determined by the Board of Directors) 

to commercial production members and in proportion to their ownership of Class C shares

as a percent of the total Class C shares outstanding.

Future plans include an online Farm Profile page providing a place on the MEC redesigned/updated website for each member's story as well as a way for customers to find a farm close to them and order from it. Of course, each farm will offer its own selection of elder berry or flower ingredients or products.
Commercial Member 
(MEC Class C shareholder)
Must be a Voting Member of MEC (own 1 Class A share).

Class C shares represent a grower's shared capital / risk with MEC. 


Fulfills key functions of coops: harvest aggregation, quality control, processing & storage as well as possible value-added production. 

Class C shares required for commercial members obligated to sell one pound per share to the coop annually at the consensus wholesale price set by the C share members annually.

Some flexibility may be arranged in purchasing Class C shares

Distributed profits and losses are made annually, as determined by the Board of Directors to owners of Class C shares proportionate to their ownership as a percent of the total Class C shares outstanding.

Guaranteed sale of properly harvested and packed elder flowers and berries at set prices/process by MEC from grower of pounds equal to the number of C shares owned - no guarantees beyond C share totals.

Participation in commercial pricing and operations decisions

Production and/or value added partnership potential with MEC



[Click on the image above to enlarge it.]


April 2022 Annual MEC Members & Board of Directors Meeting 
Transitioning to Certified Organic Production 
Click on the above link to download a USDA/SARE planner pdf.
River Hills Harvest (& MEC) Berry Production Documents
How to harvest, process and pack elderberries for commercial production, including purchase by River Hills (Harvest) Elderberry Producers, LLC.